Model is 163cm high and wears a size S.
Phase Seamless Bra
Grey & White Ombre
$25.99
$33.99
Best features of seamless technology combined with modern design and comfort of basic sports bra. Feel unique with Carpatree Phase Seamless Bra.
phase seamless bra
sporty
stylish
modern
comfortable
ombre bra
gym bra
seamless technology
grey & white ombre bra
Phase Seamless Bra
Phase Seamless Bra ensures you a new kind of quality - never seen before combination of gentle fabric, maximum comfort and modern, feminine design. Thanks to ventilating seamless mesh panels your skin can breathe, and you can enjoy the most fashionable look and the highest comfort. Be the prove, that gym and subtlety can go hand in hand with Phase Seamless Bra.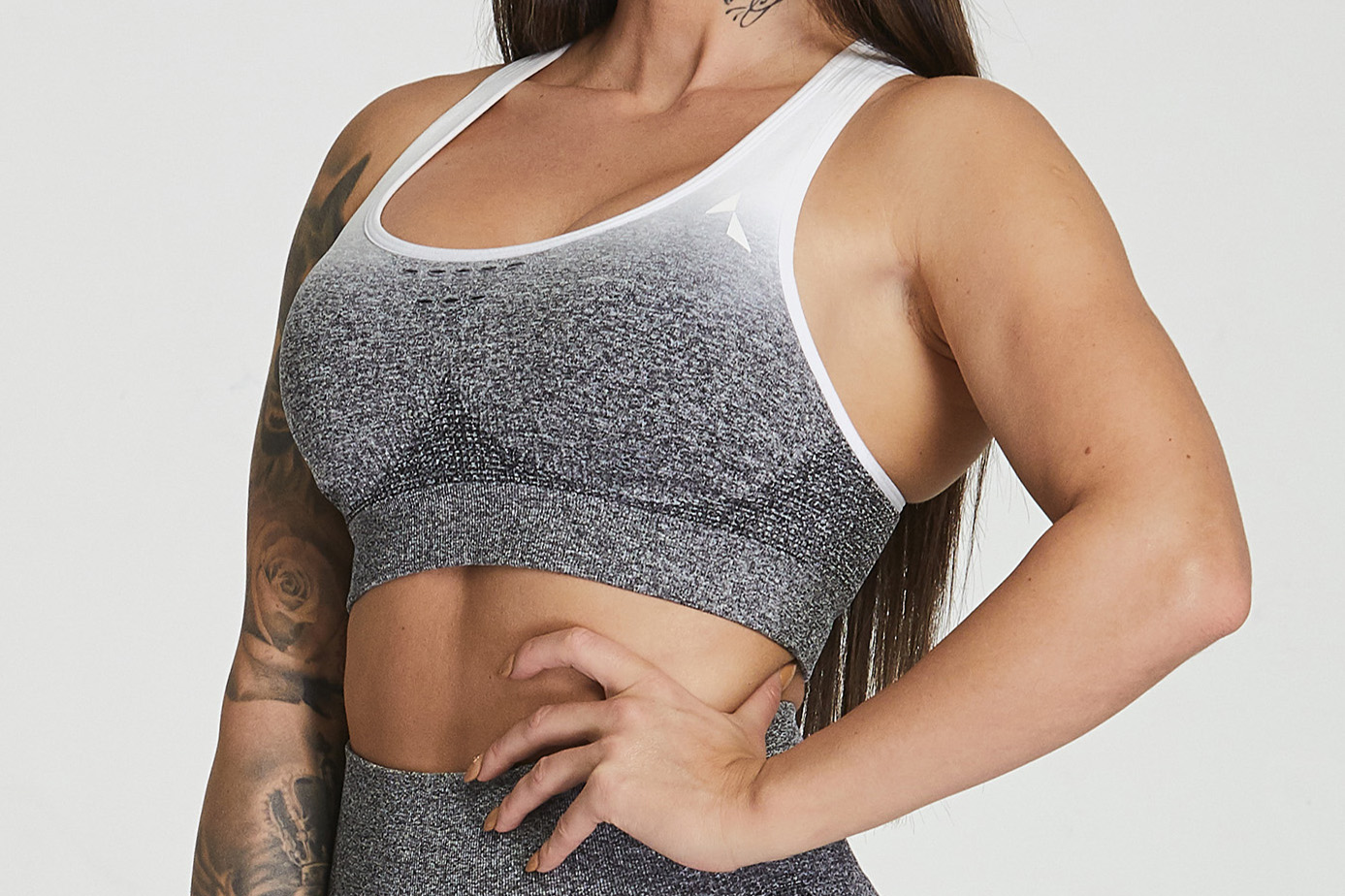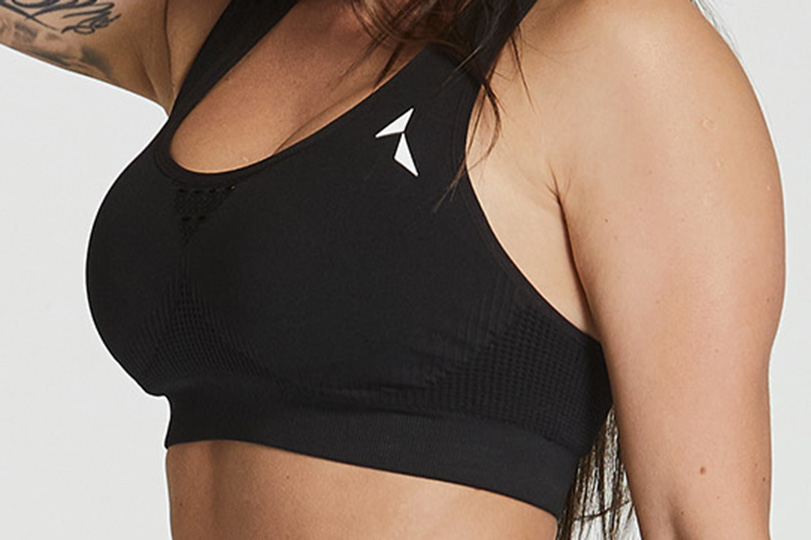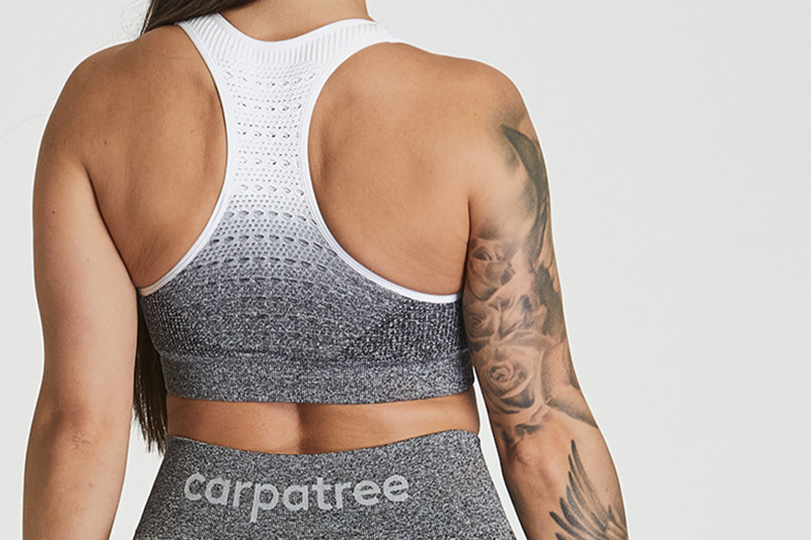 ✔ COMFORTABLE USE
Specialistic technology used in seamless production doesn't limit your movement and guarantees maximum stretching resistance. At the same time, it doesn't cause skin irritation and scratches even while doing your best at the hardest workout sessions.
✔ NO SEE TROUGH
Soft fabric features an unique and dense knit that is completely no-see-through. Dynamic fabric density level makes Phase seamless bra totally no see-through.
✔ REMOVABLE PADS
You can be sure that after taking pads out, they will not deform in laundry.
✔ FIRM SUPPORT
High qulity fabric, with strong compressive characteristics, ensures you full comfort of usage during training.
✔ BREATHABLE MATERIAL
Lightweight and breathable polyamide yarn thanks to it's unique knit makes the product highly resistant to stretching and humidity.
✔ BEEFY FABRIC
Strong, resistant fabric, that provides maximum durability.
✔ VIVID COLOURS
Vivid and non-fadable colours make you stand out from the crowd.
✔ VENTILATING SEAMLESS MESH PANELS
Highly breathable, especially during hard training seassions.
✔ MORE INFORMATIONS
Perfect for home and gym workout

Soft, high-end fabric

Quick drying and highly breathable material

Ventilating seamless mesh panels

Extremely elastic

Comfortable cut

Stabilizing cut

Modern and vivid colours

Material – 40% polyester, 54% polyamide, 6% elastane

Mashine wash safe
Reviews (7)
What customers think about this item?
Create a Review
October 13, 2020

As much, as i love bras with seams, this particular seamless bra just stole my heart. It's gives so much support to my breast area. Everyone on the gym asks me where i bought it

Aleksandra

Wadowice, Polska

August 13, 2020

CudoPrzepiękny biustonosz, wszystko dobrze trzyma, materiał bardzo przyjemny, rozmiar zgodny z opisem

June 19, 2020

NajlepszyWykonanie jak na zalaczonym zdjeciu. Rozmiar idealny wedlug podanej rozmiarowki. Wysylka ekspresowa.

June 3, 2020

Ten stanik jest najlepszym stanikiem sportowym, który miałam! Piękny, mocno podtrzymujący i przewiewny :)

May 21, 2020

Gdybym wiedziałaże będzie promka, to poczekałabym z zamówieniem :( Ale trudno, moja strata. Stanik jest cudowny, nie wiem, czy widziałam ładniejszy stanik sportowy

Dagmara

Bolesławiec, Polska

February 22, 2020

RewelacyjnyNajlepszy biustonosz jaki mam. Polecam

Dagmara

Bolesławiec, Polska

February 22, 2020

Polecam z całego serca!Materiał pierwsza klasa! Polecam!
Preorder Q&A



What preorder is?
Preorder gives you the possibility, to buy product, that is not aveliable, at the moment, on the store. Thanks to this function, client that bought the product, has a possibility to recive it before everyone else, when it is ready to send.



Who is preorder for?
Preorder is for everyone, that wants to book bestseller product, before is aveliable on the warehouse. Bestseller products are often sold out in a few hours, which brings the risk of overlook on delivery.



How long would i wait for preorder?
Usually, it takes 2 to 28 days, but on some exceptional occasions it could extend over that time. When you are deciding to purchase a preorder, take to consider, that product is on the phase of making, so there could be some unforseen delays.



How do i know, that product, that i want to buy, is on preorder?
Products, that are on preorders, are marked on red. To finalize purchase, you supposed to click "make a preorder" button. Button only appears below the preorder products.



When do i pay for preorder?
Payment takes place on the moment of purchase or in the moment of receiving order (if you choose this option of payment) - just like on regular orders.



Preorder versus sales?
Price on presales products is mandatory as from the day of purchase - it means, that if you buy product on the sale price, then you will recive product on this price.



When are you sending the orders, that contains products from preorders and also regular order products (mixed orders)?
Orders, that contains products from both categories (preorder and products aveliable on the store), will be send only after preorder product will be ready. If you need fast shipping, make two separate orders.