Yasmine Seamless Long Sleeve Top
Black Stone Wash
$44.99
Elastic Top with long sleeves and stone wash effect! Longsleeve Yasmine will find its use wherever you need strong support during physical activity. Durable material perfectly fits to your body and doesn't move during workout. We've placed an additional thumbholes on the sleeves and under the bust you'll find a specialistic elastic cuff which prevents top from moving.
Yasmine collection
stone wash effect
longsleeve top
crop top
Yasmine Seamless Longsleeve
Sports style has many names! Yasmine top proves that longsleeve doesn't have to have build-up, stiff form. It is a suitable product for those who like to emphasize their silhouette! Delicate rounded neckline has been tailored to make you feel comfortable during your workout. We've placed useful thumbholes in the sleeves, and specialized elastic cuffs below. Everything for your comfort!!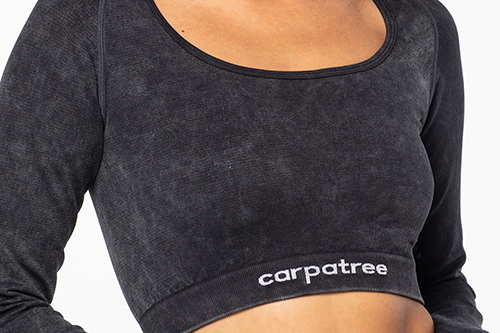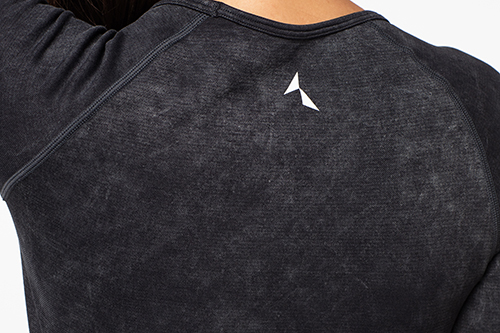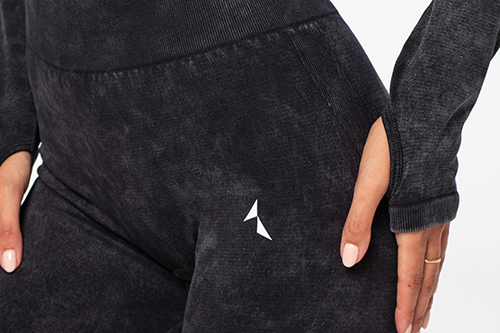 ✔ COMFORT OF USE
Thanks to specialistic technology, used in the production of material, it doesn't constrain your moves, and guarantees maximum level of tensile strength. It also doesn't cause any abrasions on the skin, even during the hardest workouts.
✔ NON SEE-THROUGH MATERIAL
Nice to touch knitwear has a unique, dense weave, so you don't have to worry, that during traing something will be visible!
✔ FANCY CUT
Long sleeves and tank-top cut has it's own place at the gym. This cut perfectly emphasize silhouette and guarantees comfort during workout!
✔ HIGH ELASTICITY
Yasmine longsleeve is all about elasticity, elasticity and once again elasticity that does not contradict with emphasizeing your silhouette!
✔ NO SEAMS
Seamless construction provides maximum comfort while wearing.
✔ ELASTIC CUFFS
Specialized elastic cuffs on the sleeves and under the bust prevent the top from moving during training! The key here is to choose the right size.
✔ CHOOSE A MATCHING LEGGINGS
Yasmine collection also includes leggings! Thanks to this, you will be able to create a full, expressive look.
✔ ROUNDED NECKLINE
Guarantees support and safety during workout while emphasizing the details of the silhouette.
✔ THICKER MATERIAL
It prevents see-throughness and helps to maintain the right body temperature.
✔ MORE INFORMATION
Made for home and gym workouts

Made of strong, durable material

Fast drying and breathable

Body-shaping cut

Comfortable material

Stabilizing cut

Fancy cut

Designed in Poland, made in China.

Material – 92% polyamide, 8% spandex

Machine wash safe
Frequently bought together
Reviews (17)
What customers think about this item?
Create a Review
September 22, 2023

Bardzo fajny

Purchase confirmed

September 16, 2023

Super 😍

Purchase confirmed

September 11, 2023

Super 😍

Purchase confirmed

September 10, 2023

Super

Purchase confirmed

September 8, 2023

Super

Purchase confirmed

September 8, 2023

Piękny

Purchase confirmed

September 5, 2023

MegaPiękny wzór i rozmiar M idealnie dopasowany 😍 Materiał solidny i rozciągliwy

Purchase confirmed

August 4, 2023

SuperTop piękny, daje 4 gwiazdki jedynie dlatego że rozmiarówka lekko zawyżona - wszystkie topy z carpatree mam w rozmiarze S, ten niestety na mnie za duży i musze zamówić mniejszy. Poza tym wszystko super

Purchase confirmed

June 3, 2023

Super

Purchase confirmed

December 1, 2022

Przyjemny materiał, komfortowy w noszeniu.

November 28, 2022

woww......zakochałam się w ten print, niby klasyczne ale mają to "coś"

November 28, 2022

Piękny i wygodny top, print ledwo widocznyTop jest wykonany z grubego, wytrzymałego materiału, prezentuje się pięknie, choć widoczne na zdjęciach plamki typu moro nie są obecne na żywo na materiale, kolor jest jednolity-ciemnoszary.

November 27, 2022

Piękny i przyjemny top :)

November 22, 2022

Super bardzo elastyczny, rozciągliwy i wygodny. No i zakochałam się w ten efekt stone wash :)

November 22, 2022

Polecam ❤️

Elżbieta

Bielsko-Biała, Polska

November 22, 2022

SpoczkoŁadnie się prezentuje, ale dla mnie ściągacz na rękawie jest trochę za mocny i przez to niewygodny żeby nosić na dłoniach przez dłuższy czas. Materiał jest gruby, jakby dżinsowy. Raczej będę zakładać podczas jakiejś aktywności na zewnątrz a nie na siłkę

November 19, 2022

Sztossss, polecam! Od dziś to moj ulubiony longsleeve