Yasmine Seamless High Waist Leggings
Black Stone Wash
$60.99
First leggings with stone wash effect! Dense, strong material of Yasmine leggings is perfect during intensive strength workouts, running or long walks/ hiking. High elasticity is a guarantee of comfort and marble print is great for hiding any imperfections (cellulite etc.). Those are the best leggings, if you want to get classic but intriguing look.
leggings
stone wash effect
seamless
high rise
yasmine collection
Yasmine Seamless Leggings
Yasmine is a woman full of courage, passion and tenacity in pursuing her goals. Leggings from this collection are perfectly emphasizeing athletic silhouette, by "supporting" the abdominal area and lifting up your glute muscles. Thanks to the marble strusture they are fully non see-through, even during squats and deadlifting!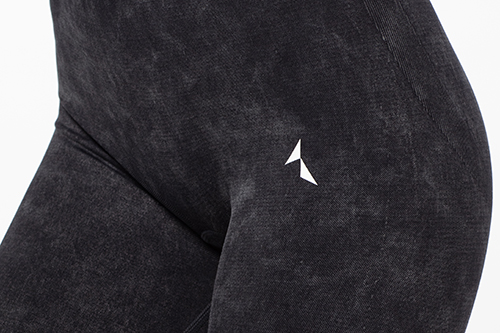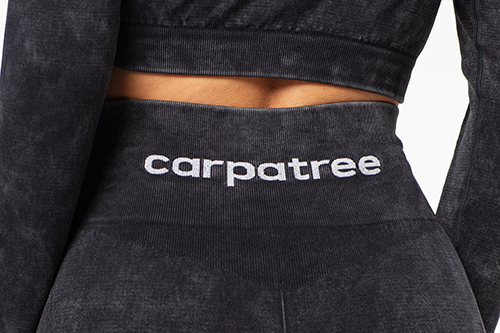 ✔ COMFORT OF USE
Thanks to specialistic technology, used in the production of material, it doesn't constrain your moves, and guarantees maximum level of tensile strength. It also doesn't cause any abrasions on the skin, even during the hardest workouts.
✔ NON SEE-THROUGH MATERIAL
Nice to touch knitwear has a unique, dense weave, so you don't have to worry, that during traing something will be visible! Even during deep squats!
✔ HIGH WAIST
High waist is emphasizing your best features and feminine shape!
✔ HIGH ELASTICITY
Yasmine leggings are all about elasticity, elasticity and once again elasticity, that does not contradict with emphasizeing your silhouette!
✔ COMPRESSIVE WAIST
High waist compression provides support and stabilization, and has a positive effect on the appearance of the silhouette.
✔ NO SEAMS
Seamless construction provides maximum comfort while wearing.
✔ SPECIALISTIC DESIGN UNDER GLUTE AREA
Body-shaping inserts under the glutes are meant to emphasize them and give your silhouette even sportier look.
✔ MATCHING TOP
You can also find a matching Yasmine top at Carpatree, to create a full look!
✔ THICKER MATERIAL
It prevents see-throughness and helps maintain proper body temperature.
✔ MORE INFORMATION
Designed for home and gym workout

Made of strong, durable material

Fast-drying and breathable

Body-shaping cut

Comfortable material

Stabilizing structure

Fancy cut

Designed in Poland, Made in China

Material – 92% polyamide, 8% spandex

Machine wash safe
Frequently bought together
Reviews (40)
What customers think about this item?
Create a Review
September 22, 2023

Bardzo fajne

Purchase confirmed

Bożena

Mszana (Gmina: Mszana), Polska

September 20, 2023

ŚwietneIdealne, mam 165 cm i 63 kg wybrałam M i leżą fantastycznie, są dość krótkie ale dla mnie to atut. Materiał mega rozciągliwy, fajny elastyczny pas, będą super na nadchodzącą jesień zimę ponieważ materiał należy do tych grubszych. Serdecznie polecam

Purchase confirmed

September 16, 2023

Bardzo wygodne

Purchase confirmed

September 15, 2023

najlepsze!Te legginsy są cudowne 🤩 materiał jest przyjemny, mięsisty i grubszy, ale nie przeszkadza to w najmocniejszych treningach, dopasowuje się do ciała, nie trzeba go naciągać. Legginsy bardzo dobrze się układają, świetnie trzymają pas i go nie uciskają, nie zwijają się też w trakcie ćwiczeń. Dla mnie rewelacja, polecam.

Aleksandra

Kraszkowice, Polska

September 14, 2023

Polecam ten produktLegginsy super przylegają do ciała. Wygodne przy aktywnosci fizucznej. Polecam z całego serca.

Purchase confirmed

September 11, 2023

Super 😍

Purchase confirmed

September 11, 2023

Super

Purchase confirmed

September 10, 2023

Piękne, leżą idealnie

Purchase confirmed

September 9, 2023

FantastyczneLegginsy bardzo wygodne, świetnie się prezentują, nie prześwitują, nie opadają.

Purchase confirmed

September 8, 2023

Super

Purchase confirmed

September 8, 2023

Piękne

Purchase confirmed

September 6, 2023

NajlepszeMoje ulubione, super zbierają boczki ale nie uciskają - no ideał (ida do mnie błękitne 🤭)

Purchase confirmed

September 5, 2023

MegaLegginsy mega rozciągliwe, kolor delikatnie ciemniejszy na żywo. Materiał gruby , super trzymają się na sylwetce . Rozmiar S jest Ok 😌

Purchase confirmed

August 29, 2023

SuperŚwietny materiał.Idealnie się układa

Purchase confirmed

Agata

Bielsko-Biała, Polska

August 28, 2023

PetardaLegginsy świetnie się naciągają i dopasowują do sylwetki. Materiał jest grubszy, ale mega komfortowy i nieprześwitujący. Rozmiar dokładnie taki jak noszę. Nie zawiodłam się!

Purchase confirmed

August 24, 2023

Sliczne przepiękne legginsy!!!

Purchase confirmed

Alžběta

Chrudim, Česká republika

August 17, 2023

Do fitka jak dělaný 😉Super opora bříška, pevný a pohodlný materiál.

Purchase confirmed

August 5, 2023

Piękne i wygodneWspaniałe legginsy. Kupiłam niestety o rozmiar za duże, ale nie mogę się doczekać aż je wymienię i zrobię pierwszy trenio ;) cudo!

Purchase confirmed

August 4, 2023

PolecamLeginsy leżą pięknie, kolor śliczny, polecam ;)

Purchase confirmed

August 1, 2023

superrewelacyjny wzór nie pogrubiają

Purchase confirmed

July 29, 2023

Ekstra produktBardzo wygodne legginsy, super materiał, fajnie leżą.

Purchase confirmed

July 27, 2023

CudownySwietny material, super wygodne!

July 25, 2023

Najlepsze!Cudowny, miekki materiał. Spodnie bardzo wygodne i nie ruszaja sie podczas treningu

Purchase confirmed

July 19, 2023

Cudowne legginsyFajny, przyjemny materiał, nie prześwitują. Dobrze leżą na pośladkach, pas z wysokim stanem nie dostaje. Idealne na siłownię, jak i na co dzień.

Purchase confirmed

July 15, 2023

Moje ulubione!Fajnie sie ciągną, nie prześwitują i modelują pas.

Purchase confirmed

July 14, 2023

Jedne z ulubionych!Gruby materiał, fajnie dopasowują się do ciała, wyższy stan, polecam :)

Purchase confirmed

July 1, 2023

NajlepszeMoje ulubione leginsy z carpatree. Gruby materiał, ładnie modeluje pośladki oraz wewnętrzna stronę ud. Polecam!

Purchase confirmed

June 30, 2023

MegaSwietny material i kolor! Swietnie nadaja sie do cwiczen i do codzienniego noszenia

Purchase confirmed

June 3, 2023

Super

Purchase confirmed

May 18, 2023

Świetne leginsyMateriał super jakości, gruby, mięsisty, nie lubiłam nigdy chodzić po ulicy w leginsach od teraz się to zmieni. Są bardzo wygodne. Leżą super, bielizna się nie odznacza. Na pewno zamówię kolejne, z tego samego fasonu. Cena adekwatna do jakości. Pas w tali bardzo ładnie przylega, super wykonany 😃

Purchase confirmed

December 11, 2022

Super leża i wyglądaja POLECAM !

December 1, 2022

Jak zawsze 1 klasa. Tylko ćwiczyć

December 1, 2022

PolecamPiękny, mięsisty i miły w dotyku materiał. Leginsy nie prześwitują, super leżą i bardzo ladnie podkreślają sylwetkę. Na treningu sprawują się idealnie. Jak na razie moje najlepsze legi. Sztos!Brać w ciemno ;)

November 29, 2022

Mocne, śliczne legginsy polecanko

November 29, 2022

CudowneLegginsy są cudowne, jak druga skóra. Mega elastyczne dobrze dopasowują się do ciała. Na treningu nie krępują ruchów, wręcz nie czuć ich na sobie, no cudo. Polecam serdecznie

Purchase confirmed

Lenka

Frýdek Místek, Česká republika

November 26, 2022

PerfektníMůj první nákup a rozhodně ne poslední. Legímy skvělé, materiál, zpracování dokonalé. Nikdy jsem neměla lepší. Chtěla jsem hned koupit ještě jedny, ale bohužel nejsou v mojí velikosti :-( . Doufám, že brzy budou zase dostupné.

Purchase confirmed

November 21, 2022

Fajny print. Fajny krój. Rozmiarowo wypadaja ok

November 21, 2022

Przepiękne legginsy.Szczerze polecam - materiał i wykonanie jest suuuuper!

November 20, 2022

super, wygląsają przepięknie i są bardzo wygodne :)

November 20, 2022

Dostałam leginsy dzisiaj i są genialne! Wygląd powala, teraz tylko sprawdzonko mocnym treningiem :)