Feminine sports bra, with open back and more built-up front. Designers bra strings are emphasizing and highlighting athlete's back. We also took care about your comfort and designed more built-up front and removable pads, so you can always enjoy your physical activity to the fullest.
sports bra
black bra
ivy cross bra
padded bra
Ivy Cross Bra
Name of the Ivy bra refers to the specialized design at the back - the intertwined quadruple bra strings will beautifully accentuate the athletic back. Breathable and stretchy fabric provides a sense of comfort throughout your workout, and you can remove/insert pads as needed. Thanks to the extended under bust cut, you don't have to worry about anything.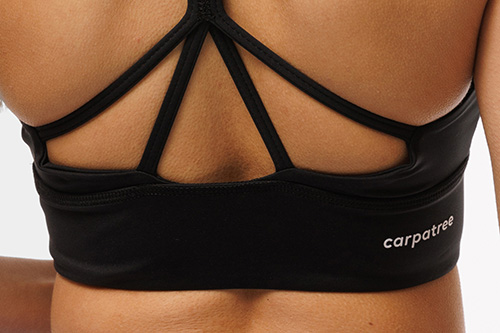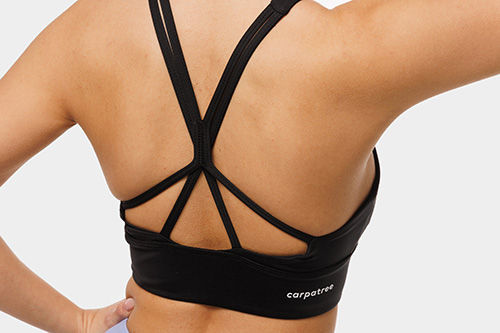 ✔ COMFORT OF USE
Well designed construction helps you to achieve your goals by supporting your effort.
✔ FANCY EFFECT
Intertwined back bra strings accentuate muscles and add support.
✔ REMOVABLE PADS
Adjust bra to your needs.
✔ HIGH ELASTICITY
Ivy bra, thanks to the combination of elastic material and silky smooth structure, is so comfortable, that you almost doesn't feel it!
✔ BREATHABLE MATERIAL
Light, pleasant structure allows your skin to breathe while also combining delicacy and firm support.
✔ MULTITASKING
Ivy is a perfect bra for both: workouts and fancy outfits!
✔ CHOOSE A MATCHING BRA
The Ivy bra will create a great duo with classic high-waisted leggings, shorts or even jeans!
✔ MORE INFORMATION
Designed for home and gym workouts

Made of delicate, durable material

Fast drying and breathable

Cut, that emphasizes back muscles

Fancy design

Stabilizing structure

Removable pads

Designed and made in Poland

Material – 92% poliamide, 8% spandex

Machine wash safe
Frequently bought together