Model is 170 cm high and wears a size S.
Vibe Seamless Bra
Grey Melange
$38.99
For women, for whom gentle support and stylish design must go hand in hand. Vibe bra is a quintessence of strong femininity, which infects everyone around with what is the most beautiful thing about her - self-confidence. If you are not convinced by the removable padding and adjustable straps, then the most unique design and uncompromised comfort will do it for sure.
seamless bra
sports bra
gym bra
women's bra
padding bra
Vibe Seamless Bra
Vibe is a synonym of sports style, but in the best possible version. Seamless Bra construction is perfect for long, hard strength workouts, when comfort is the most important. If you love details and regulated strings and pads are a must have for you, then this bra is perfect for you!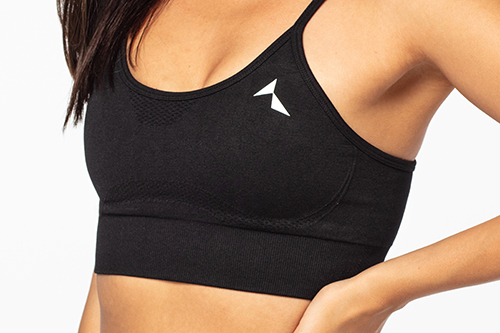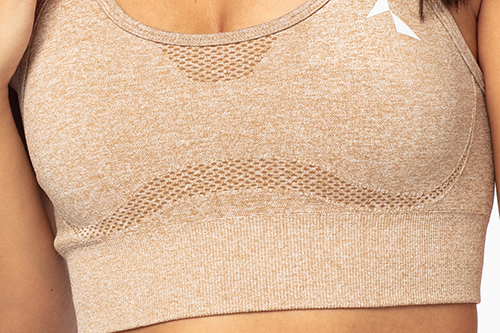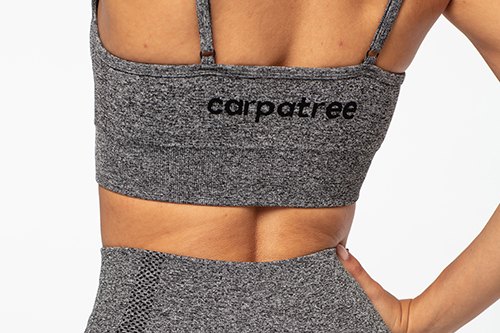 ✔ COMFORT OF USE
Thanks to specialistic technology, used in the production of material, it doesn't constrain your moves, and guarantees maximum level of tensile strength. It also doesn't cause any abrasions on the skin, even during the hardest workouts.
✔ NON SEE-THROUGH MATERIAL
Nice to touch knitwear has a unique, dense weave, so you don't have to worry, that during traing something will be visible!
✔ REMOVABLE PADS
Pads allows you to feel comfortable, but if you prefer to train without them, you can always remove them.
✔ ELASTIC MATERIAL
High qulity fabric, with strong elastic characteristics, ensures you full comfort of usage during training.
✔ REGULATED STRINGS
You can adjust the bra to your needs.
✔ NO SEAMS
Seamless construction guarantees maximum comfort. During training you don't have to worry about any possible skin abrasions.
✔ CLASSIC COLORS
Colors, that go well with everything. Whether you're a fan of bolder or more modest styles, you'll love this model.
✔ MATCHING BOTTOMS
Bra is a perfect match with Vibe seamless leggings and biker shorts but also looks great with other sports leggings.
✔ MORE INFORMATION
Designed for home and gym workout

Strong, durable material

Fast drying and highly breathable

With removable pads

Comfortable cut

Great support

Designed in Poland, made in China

Stylish design

Material – 60% nylon, 30% polyester, 10% spandex (melange)/ 92% polyamid, 8% spandex (plain)

Machine wash safe
Frequently bought together
Reviews (22)
What customers think about this item?
Create a Review
September 27, 2023

Fajny

Purchase confirmed

September 22, 2023

Fajny, bardzo wygodny

Purchase confirmed

September 16, 2023

Super

Purchase confirmed

September 12, 2023

Bardzo wygodny

Purchase confirmed

September 11, 2023

Super

Purchase confirmed

September 10, 2023

Super

Purchase confirmed

September 8, 2023

Bardzo wygodny

Purchase confirmed

September 8, 2023

Super 😍

Purchase confirmed

August 13, 2023

ŚwietnyDodatkowe punkty za możliwość regulacji ramiączek! Kolor zgodny ze zdjęciami, idealne zestawy z dołami do kompletu, bardzo wygodny, porządny, świetny materiał. Generalnie odkrycie sezonu :)

Purchase confirmed

August 9, 2023

Bardzo wygodny!

Purchase confirmed

July 27, 2023

RewelacjaSwietny stanik - kupilam w dwoch kolorach i nosze bez przerwy

July 26, 2023

Super krój, duży plus za regulowane ramiączka

July 13, 2023

Super 😍

Purchase confirmed

July 13, 2023

RewelacjaDuży plus za regulowane ramiączka, świetnie trzyma i kształtuje biust. Rozmiarówka standardowa. Polecam

Purchase confirmed

June 7, 2023

Vibe faworytZdecydowanie model Vibe to mój faworyt, a ta szarość jest piękna 🥰

Purchase confirmed

June 2, 2023

UwielbiamMój ulubiony sportowy stanik. Gruby materiał i nie widać sutków nawet po wyjęciu wkładek (nie znoszę wkładek, zawsze wyjmuję). Bezszwowy, dzięki czemu zero otarć przy bardziej intensywnych treningach. Cudo!

November 7, 2022

Stanik nie prześwituje, a jego dolna linia dopasowuje się do ciała (doskonale do niego przylega). Polecam

October 17, 2022

Super wygodny, ładnie się dopasowuje i wygląda nawet po wyjecie wkładek, nie ogranicza ruchów

September 27, 2022

moja ulubiona kolekcja carpatree, stanik bardzo ładny i wygodny, porządnie zrobiony, ciekawy odcień szarego

August 15, 2022

cudowny, polecam bardzo

August 7, 2022

cudowny materiał, świetny krój, super się sprawdza u mnie na zajęciach jogi