Model is 170 cm high and wears a size S.
Vibe Seamless High Waist Leggings
Black
$59.99
If you always ask more of yourself. If you feel, that the most important is still ahead of you. If you have the courage to pursue your goals - then Vibe Leggings are just what you're looking for. It's the most comfortable seamless construction enhanced with properties required by true athletes. In addition to performance properties Vibe leggings also have one undeniable advantage - a design you will fall in love with.
seamless leggings
women's leggings
high waist leggings
sporty leggings
leginsy
Vibe Seamless Leggings
Word "seamless" is the key for many women when it comes to choosing leggings - and no wonder! Just like the other seamless leggings from Carpatree, Vibe leggings are a guarantee of undisturbed comfort. Thicker belt provides support and higher compression around the waist, while delicate accents around glutes make your figure look even better! If flexibility is an advantage to you, then these leggings are a must-have!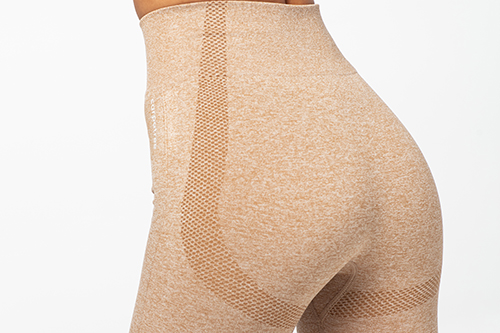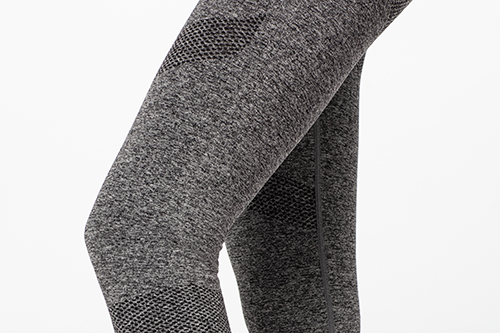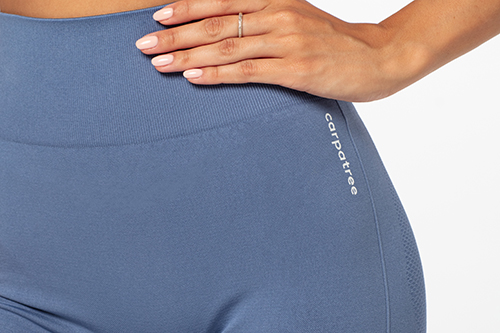 ✔ COMFORT OF USE
Thanks to specialistic technology, used in the production of material, it doesn't constrain your moves, and guarantees maximum level of tensile strength. It also doesn't cause any abrasions on the skin, even during the hardest workouts.
✔ NON SEE-THROUGH MATERIAL
Nice to touch knitwear has a unique, dense weave, so you don't have to worry, that during traing something will be visible! Even during deep squats!
✔ HIGH WAIST
High waist is emphasizing your best features and feminine shape!
✔ HIGH ELASTICITY
If you like elasticity and comfort, then this leggings are for you!
✔ COMPRESSIVE BELT
High level of waist compression provides support and stabilization and has a positive impact on the look of your figure.
✔ NO SEAMS
Seamless construction guarantees maximum comfort.
✔ DETAILS UNDER THE GLUTES AREA
Profiling inserts around the glute area are meant to emphasize them and make the silhouette look even more sporty.
✔ MATCHING TOP
This model of leggings was designed with Vibe bra and shortsleeve to complete the set! Thanks to this you will be able to create a full, vivid look.
✔ MORE INFORMATION
Designed for home and gym workout

Firm, durable material

Fast drying and highly breathable

Body-shaping cut

Comfortable material

Stabilizing structure

Modern cut

Designed in Poland, made in China

Material – 66% polyamid, 26% polyester, 8% spandex (melange)/ 92% polyamid, 8% spandex (plain)

Machine wash safe
Frequently bought together
Reviews (24)
What customers think about this item?
Create a Review
November 30, 2023

SuperLegginsy się bardzo ładnie układają, rozciągają się, więc większe ciało nie jest problemem.

Purchase confirmed

November 11, 2023

Polecam, bardzo komfortowe.

Purchase confirmed

September 6, 2023

PolecamPolecam wysokim dziewczynom, którym cieżko znaleźć wystarczająco dlugie legginsy. Mam 180cm wzrostu i te są idealne zarówno jeśli chodzi o długość nogawek jak i długość stanu.

Purchase confirmed

August 14, 2023

PolecamNajlepsze leginsy jakie miałam

Purchase confirmed

Dominika

Łodygowice, Polska

August 3, 2023

ŚwietnePięknie sie prezentują, wygodne i bardzo zgrabnie się w nich wygląda. Materiał bardzo przyjemny. Z tabeli rozmiarów wynikało, że jestem XS ale dla wygody zamowołam S i ładnie się układają.

July 25, 2023

PolecamSuper materiał i bardzo dobrze dopasowuja sie do sylwetki 🤗

Purchase confirmed

July 12, 2023

SztywneSą ok, natomiast materiał jest dosyć sztywny, nie tak miękki jak bym chciała. Ciężko mi się je zakłada, potem jest ok. Pas w talii bardzo ładnie modeluje.

Purchase confirmed

June 26, 2023

UlubioneVibe to mój ulubiony model leginsów z carpatree, mam też niebieskie, są po prostu świetne, polecam każdemu, kto ceni wygodę, jakość i ładny wygląd 🥰

Purchase confirmed

May 29, 2023

Przepiękne i naprawdę dobrze wykonaneZaryzykowałam z rozmiarem - wzięłam XL pomimo tego, że minimalnie wykraczam poza granicę i niestety w pasie były za bardzo opięte, więc musiałam zwrócić. Zaznaczyć jednak muszę, że legginsy są przepiękne, świetnie wykonane i niesamowicie wygodne. Jak schudnę to kupuję 😁

Purchase confirmed

May 18, 2023

Model idealny !Dla mnie to taka mała czarna na siłownię! Kolor czarny klasyczny, elegancki. Idealnie leży ♥️

Purchase confirmed

May 17, 2023

Polecam! bardzo wygodne

Purchase confirmed

January 10, 2023

Niesamowita jakość i wygląd 🤩Legginsy i topy po prostu boskie , najlepsza jakość ever ! Serdecznie polecam ! Teraz to moja ulubiona marka ❤️

November 27, 2022

Świetny produkt idealnie dopasowuję się do sylwetki z bardzo wysokim stanem, materiał bardzo przyjemny dla skóry.

November 16, 2022

Najlepsze spodnie do ćwiczeń, trwałe, jak druga skóra. Polecam!!

October 18, 2022

Ogólnie top jest najwygodniejszym i chyba najładniejszym jakie miałam a mam ich sporo hahah polecam wszystkim

October 6, 2022

Najwygodniejsze jakie miałam!Super legginsy, ślicznie wyglądają, identyczne jak na zdjęciu. Bardzo wygodne :) polecam

September 25, 2022

polecam, nie marszczą się i guma na brzuchu świetnie podkreśla talie :)

September 22, 2022

Legginsy są megaaa, materiał porządny. Bardzo wysoki stan to dużyyyyy plus.

September 21, 2022

Spoko, polecamBardzo wygodne legginsy, dobre jakościowo. Super się w nich ćwiczy.

September 8, 2022

Wygodne, nie prześwitują, polecam

August 21, 2022

Legginsy są megaaa, bardzo wygodne i elastyczne, materiał porządny. Plus za bardzo wysoki stan, polecam.

August 10, 2022

jaaaakie one są super!!! przepiekne, pasuja mi do wszystkiego

July 27, 2022

Najlepsze legginsy jakie miałam. W rzeczywistości wyglądają i leżą jeszcze lepiej jak na zdjęciach. Serdecznie polecam! <3