Model is 170 cm high and wears a size S.
Vibe Seamless High Waist Leggings
Beige melange
$62.99
If you always ask more of yourself. If you feel, that the most important is still ahead of you. If you have the courage to pursue your goals - then Vibe Leggings are just what you're looking for. It's the most comfortable seamless construction enhanced with properties required by true athletes. In addition to performance properties Vibe leggings also have one undeniable advantage - a design you will fall in love with.
seamless leggings
women's leggings
high waist leggings
sporty leggings
Vibe Seamless Leggings
Word "seamless" is the key for many women when it comes to choosing leggings - and no wonder! Just like the other seamless leggings from Carpatree, Vibe leggings are a guarantee of undisturbed comfort. Thicker belt provides support and higher compression around the waist, while delicate accents around glutes make your figure look even better! If flexibility is an advantage to you, then these leggings are a must-have!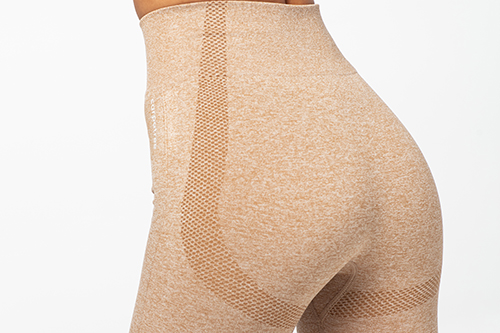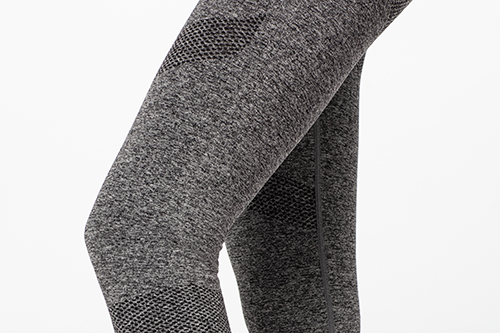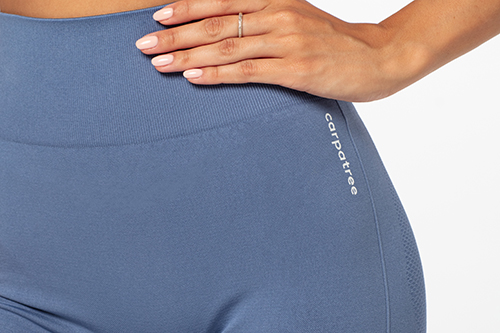 ✔ COMFORT OF USE
Thanks to specialistic technology, used in the production of material, it doesn't constrain your moves, and guarantees maximum level of tensile strength. It also doesn't cause any abrasions on the skin, even during the hardest workouts.
✔ NON SEE-THROUGH MATERIAL
Nice to touch knitwear has a unique, dense weave, so you don't have to worry, that during traing something will be visible! Even during deep squats!
✔ HIGH WAIST
High waist is emphasizing your best features and feminine shape!
✔ HIGH ELASTICITY
If you like elasticity and comfort, then this leggings are for you!
✔ COMPRESSIVE BELT
High level of waist compression provides support and stabilization and has a positive impact on the look of your figure.
✔ NO SEAMS
Seamless construction guarantees maximum comfort.
✔ DETAILS UNDER THE GLUTES AREA
Profiling inserts around the glute area are meant to emphasize them and make the silhouette look even more sporty.
✔ MATCHING TOP
This model of leggings was designed with Vibe bra and shortsleeve to complete the set! Thanks to this you will be able to create a full, vivid look.
✔ MORE INFORMATION
Designed for home and gym workout

Firm, durable material

Fast drying and highly breathable

Body-shaping cut

Comfortable material

Stabilizing structure

Modern cut

Designed in Poland, made in China

Material – 66% polyamid, 26% polyester, 8% spandex (melange)/ 92% polyamid, 8% spandex (plain)

Machine wash safe
Frequently bought together
Reviews (28)
What customers think about this item?
Create a Review
August 7, 2023

świetne legginsy, pięknie modelują sylwetkęPoczątkowo ciężko mi było je założyć, ale są cudne. W dyskretny sposób modelują sylwetkę, nie prześwitują, mają piękny, neutralny odcień beżu. Są bardzo wygodne, świetnie się w nich biega i ćwiczy. Dodam, że nogawki są dość długie.

June 24, 2023

Jedne z lepszych jakie miałam!Nie prześwitują, są bardzo komfortowe podczas treningu, dokładnie przylegają do ciała. Nie widać na nich potu przez co trening to czysta przyjemność. Najbardziej i tak lubię kolekcję Allure gdyż mają ściągacz między pośladkami, u tych niestety ich nie ma. A szkoda, bo byłyby o wiele fajniejsze. Nie mniej jednak i tak to dobry wybór bo ten kolor jest unikatowy, naprawdę pasuje do każdej karnacji, a szczególnie do bladych osób. Mam rozmiar S przy wzroście 168 i wadze 64 kg.

Purchase confirmed

June 21, 2023

Świetne!Produkt wysokiej jakości, dobrze trzyma talię, ładnie leży i podkreśla kształty

Purchase confirmed

June 19, 2023

SuperNajwygodniejsze legginsy jakie mam

June 3, 2023

Piękne i modelujące

Purchase confirmed

May 30, 2023

Polecam!Bardzo wygodne 🥰

Purchase confirmed

May 18, 2023

Najlepsze!Leginsy idealnie układają się na ciele, jak druga skora, a ten kolor jest po prostu boski ♥️ serdecznie polecam! Moje ulubione 🥰

Purchase confirmed

December 11, 2022

Legginsy doskonałej jakości, nie prześwitują. Wysoki stan modeluje talię. Genialne na trening. Polecam.

November 26, 2022

Cudo....Mam różne leginsy z tej firmy...ale te robią robotę ;p Najpierw myślałam, że się w nie nie wcisnę (noszę rozmiar L, i taki też kupiłam)...Żadne legginsy nie wymodelowały mi tak ciała jak te...są jak uciskowe rajstopy antycellultowe...a nawet duuużo lepsze...POLECAM...będziecie zachwycone ;p

November 22, 2022

Najwygodniejsze legginsy jakie kiedykolwiek miałam. Super wykonane, milutki materiał, rozciągliwy. Polecam!

November 14, 2022

Super dopasowane i bardzo wygodne

November 6, 2022

świetne bardzo ładnie leżą, mega wygodne - jestem bardzo zadowolona :)

October 18, 2022

Kupiłam z polecenia jednej dziewczyny na instagramie i jestem zachwyona!

October 11, 2022

Pięknie podkreślają talię i pośladki. Absolutnie nie podwijają się podczas treningu! Polecanko❤️

October 6, 2022

Sliczne! Bardzo przyjemny material <3

September 25, 2022

Super, bardzo wygodne, rozmiar w porządku. A kolor to sztos!

September 19, 2022

Legginsy są rewelacyjne. Zachowują się jak druga skóra. Polecam serdecznie!

September 8, 2022

Wysoki stan idealnie modeluje sylwetkę, piękny delikatny beż

August 30, 2022

bardzo fajne, wygodne

August 29, 2022

Super, mam już dwa komplety beżowy i czarny, wszystko super polecam każdemu

August 24, 2022

Pierwszy trening w nich zaliczony, są naprawdę super.

August 21, 2022

Zakochałam się w tej kolekcji, jest megaaaa. Mam już dwa komplety szary i beżowy, wszystko super polecam każdemu

August 15, 2022

Super wygodne, dopasowane, nie ograniczają ruchów. Przepiękny odcień beżu, polecam

August 10, 2022

NAJWYGODNIEJSZE LEGGINSY JAKIE MIAŁAM, SĄ JAK DRUGA SKÓRA!

July 26, 2022

Rewelacja! Jestem zachwycona ich wyglądem i jakością

July 25, 2022

Super, mega!Materiał bardzo przyjemny i delikatny. Fantastycznie leży na ciele

July 24, 2022

Polecam jestem bardzo zadowolona!Super komplety! Leginsy świetne bardzo ładnie leżą, mega wygodne, stanik tak samo.