Model is 175 cm high and wears a size S.
Running Pocket Shorts
Black, with print
$37.99
Summer, heat, sun - workout in such conditions follows its own rules. Shorts are a perfect choice, if you want to remain full comfort and freedom of movement, and at the same time to just look good. Just one look at them is enough for you to conclude, that Pocket Shorts aren't just an ordinary shorts; they are compound of two layers - one of them is more like leggings, and the second gives you a disigners look. They are also perfect for running workout.
pocket shorts
women's shorts
gym shorts
summer shorts
shorts for runners
lavender shorts
shorts with print
Pocket Shorts
Pocket Shorts are made with two layers of material - bottom layer, really stretchy, provides you physical and psychical comfort, and the top layer is adding an extra fashionable look. Both of this features makes them an ideal combination of sports and style. Mesh pocket at the side allows you to take key, phone or other small stuff with you.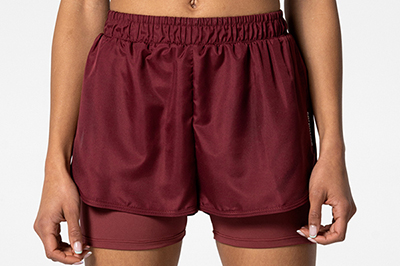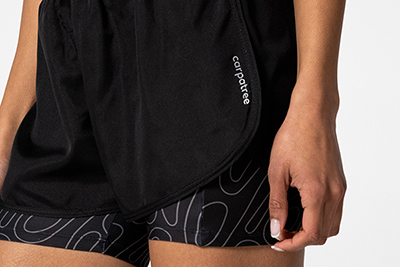 ✔ COMFORT OF USE
Thanks to high waist your body looks good during every sports activity!
✔ NON SEE-THROUGH MATERIAL
The delicate knit has a unique, dense weave structure, so no one can see-through even in deepest squats.
✔ IDEAL WAIST HEIGHT
Optimal waist height doesn't limit body movements and allows full freedom of training while keeping the shorts at their place without slipping off.
✔ SMALL MESH POCKET
You don't need to take a bag, just to have a place for your phone or key - now you have a pocket!
✔ TWO LAYERS OF MATERIAL
Every layer is essential and increases the comfort of movement.
✔ CLASSIC DESIGN
You will always feel comfortable in them.
✔ SPECIAL CUT
The unique cut models the silhouette and provides the right support at the strategic points of your body.
✔ MORE INFORMATION
Designed for home and gym workout

Delicate, durable material

Fast drying and highly breathable

Perfect for running

Comfortable cut

Stabilizing structure

Intensive color

Material – (bottom layer) 92% poliester, 8% elastan, (top layer) - 100% polyester

Machine wash safe

Designed and made in European Union (Poland)