Model is 170 cm high and wears a size S.
Vibe Seamless High Waist Shorts
Blue
$41.99
Vibe is a lifestyle - it's a feeling of freedom, style and "taking it easy" in the best sense. Shorts from the Vibe collection, apart from their unique look and seamless construction, have another very important advantage - a wide waist belt. It's the solution for one of the most important problems of active women; belt that does not slip or move - no more constant pulling up your shorts during training!
seamless shorts
shorts for women
gym shorts
women's shorts
Seamless Vibe Shorts
Vibe seamless short were designed with thougth of strength workouts, which is what they owe their ultra-comfortable construction. High waist and wide, compressive belt provides extra support and makes you feel comfortable during physical activity. Unique look is also provided by delicate details around glutes and thighs!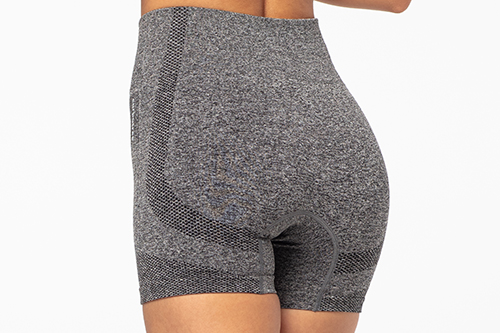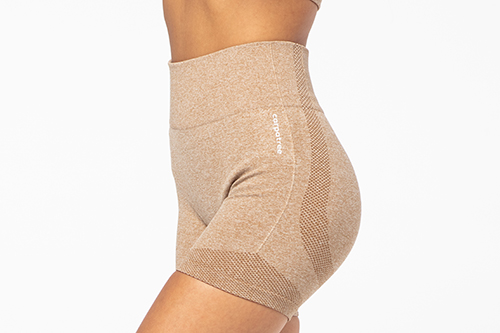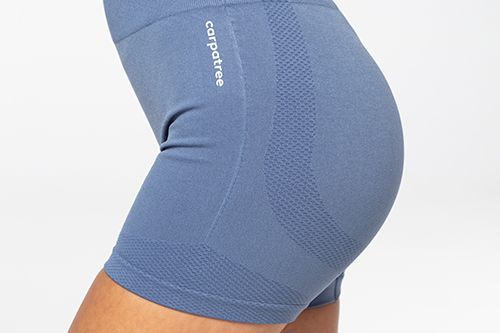 ✔ COMFORT OF USE
Thanks to regular waist your body looks good during every sports activity!
✔ NON SEE-THROUGH MATERIAL
Nice to touch material has a unique, dense weave, so you don't have to worry, that during training something will be visible!
✔ HIGH WAIST
High waist is a guarantee of great look, full comfort and better body proportions.
✔ DELICATE MATERIAL
Soft, delicate and durable material looks perfect on the body and is increasing your comfort during different sports.
✔ BREATHABLE FABRIC
Light, breathable, thermoactive yarn is a result of combination of polyamid and elastane.
✔ SEAMLESS CONSTRUCTION
Seamless cut supports you with the highest comfort and gives you the best mood during activity.
✔ BODY-SHAPING DETAILS
Basic design gains some modern, stylish character thanks to the details!
✔ NON-SQUEEZING LEGS
Legs are not too tight in the thighs area, which prevents the unaesthetic effect of "too tight" shorts.
✔ MATCHING TOP
You can find a matching Vibe shortsleeve and bra at our store.
✔ PERFECT LENGTH
Length, that will keep you comfortable during all year round workouts at the gym and outdoor, during warmer months.
✔ MORE INFORMATION
Designed for home and gym workout

Firm, durable material

Fast drying and highly breathable

High waist

Elastic material

Stabilizing structure

Tape with logo

Designed in Poland, made in China

Material – 66% polyamid, 26% polyester, 8% spandex (melange)/ 92% polyamid, 8% spandex (plain)

Machine wash safe
Frequently bought together
Reviews (18)
What customers think about this item?
Create a Review
September 22, 2023

Bardzo fajne

Purchase confirmed

September 16, 2023

Super

Purchase confirmed

September 12, 2023

Wygodne, leżą idealnie

Purchase confirmed

September 11, 2023

Super

Purchase confirmed

September 10, 2023

Super

Purchase confirmed

September 8, 2023

Super

Purchase confirmed

September 8, 2023

Super

Purchase confirmed

August 8, 2023

Świetne spodenki!Piękny kolor, świetnie modelują sylwetkę,są bardzi wygodne. Mają idealną długość, świetne do ćwiczeń i do biegania. Serdecznie polecam

Purchase confirmed

Karolina

Łaskarzew, Polska

July 21, 2023

Super 🥰Wygodne ,polecam

Purchase confirmed

July 10, 2023

Polecam!Spodenki super, kolor sliczny, dla mnie petarda

Purchase confirmed

July 10, 2023

Polecam!Materiał przyjemny w dotyku, dobrze się nosi. Kolor zgodny ze zdjęcia. Wysoki stan i krój powodują, że spodenki dobrze przylegają i na ciele wyglądają bardzo dobrze.

Purchase confirmed

June 23, 2023

Super

Purchase confirmed

June 9, 2023

Genialna jakość!Jestem oczarowana jakością tych szortów - materiał jest ultra gruby, guma w pasie szeroka i solidna, a produkt rewelacyjnie wykonany i uszyty. Kolor bardzo ładny. Mały minus jednak za fakt, że podczas treningu, zwłaszcza bardziej energicznego, nogawki lekko się podwijają i trzeba je wciąż poprawiać, co jest nieco denerwujące.

Purchase confirmed

October 24, 2022

MEGA KOLOREKpolecam bo na żywo wyglądają jeszcze lepiej!!

August 4, 2022

Najlepsze, polecam!

August 1, 2022

Szorty są świetne, materiał bardzo miły w dotyku, bardzo polecam

July 27, 2022

Prześliczny kolor i mega wygodne!

July 26, 2022

Sztos ! 💪Po otworzeniu paczki i przymierzeniu pierwsze co robiłam zamówiłam jeszcze dłudie legginsy w tym kolorze po prostu się w nich zakochałam 😍 Druga skóra ! Zdecydowanie Polecam !