Swift Pocket Running Leggings
Black
45,99 USD
Simplicity - sometimes, when there is too much to choose, simplicity is precisely what you are looking for. Black Swift Leggings will allow you to focus on your workout, and at the same time, keep full dynamics of movement. It's unique design will allow you to match them with t-shirt or shoes. You can also hide your phone or money, at the side pocket.
black leggings with pocket
women's swift leggings
running leggings
gym leggings
Swift Pocket Leggings
Swift Pocket Leggings are a combination of best features - high waist, Enduraflex technology (sweat is no longer a problem!), reflective Carpatree logo and of course - pocket! Classic design allows you to wear them with colorful top! This running season has to be yours!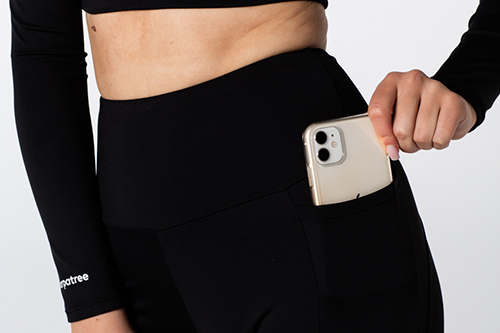 ✔ COMFORT OF USE
Thanks to high waist your body looks good during every sports activity!
✔ NON SEE-THROUGH MATERIAL
Nice to touch knitwear has a unique, dense weave, so you don't have to worry, that during traing something will be visible!
✔ POCKET ON THE SIDE
Now you can hide all the small things - there is no need to take an extra bag!
✔ HIGH WAIST
Makes your silhouette look even better!
✔ BREATHABLE FABRIC
Light, breathable, thermoactive yarn is a result of combination of polyester and elastane.
✔ CLASSIC DESIGN
You will always feel comfortable in them.
✔ SPECIAL CUT
The unique cut models the silhouette and provides the right support at the strategic points of your body.
✔ LIGHT AND BREATHABLE KNIT
Highly breathable material transfers moisture to the outer parts of the fabric while keeping a light yet highly resistant structure.
✔ MORE INFORMATION
Designed for home and gym workout

Delicate, durable material

Fast drying and highly breathable

Perfect fir running

Comfortable cut

Stabilizing structure

Intensive color

Material – 92% polyester, 8% elastane

Machine wash safe
Recenzii (1)
Ce părere au clienții despre acest articol?
Creați o recenzie
22 aprilie 2021

ŚwietneUwielbiam gdy legginsy mają kieszonki, dobra robota Carpa! Plus za wysokim stan, bo nie ma większego koszmaru niż zsuwające się podczas biegania legginsy